360 Degrees of Perfection
AUTO BODY REPAIR FINANCING
GETTING YOUR VEHICLE BACK ON THE ROAD WITHOUT BREAKING THE BANK CAN BE HARD
WE NOW OFFER FINANCING THROUGH OUR PARTNER DIGNIFI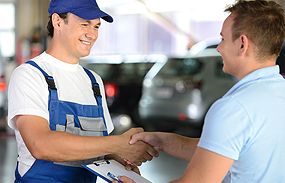 APPLYING FOR FINANCING HAS NEVER BEEN EASIER
LET US KNOW YOU ARE INTERESTED AND ONE OF OUR SERVICE ADVISORS CAN SEND YOU OVER THE LINK TO APPLY
TRUSTED COLLISION SERVICES
We now offer financing for all of your automotive needs whether it is new tires, collision repair, new paint job, hail damage repairs, ect... Look no further we have you covered.
More than collision repairs, we provide a full range of maintenance and repair services.
AUTO BODY REPAIR & PAINTING
FRAME STRAIGHTENING & UNI-BODY RESTORATION
AIR CONDITIONING SERVICING
"Your One Stop Automotive and Collision Repair Shop"?